(

oracne
Jul. 21st, 2017
08:37 am
)
We are having a run of very hot, very high-humidity days like Philly does get, but usually they don't last more than a few days. It's been a bit more than that this summer. Do Not Want.
I want autumn and wearing layers and pulling out things made of wool.
Speaking of wool, I am wearing new sneakers made of wool today, for which I paid full price and I don't care because my poor arthritic foot bones are loving them so very much. The tops are soft! The insides are soft! There appears to be adequate support!
They are from Allbirds
and I never want to take them off. For the most part, they are not too hot, though I haven't tried them standing in the high humidity all day yet.
I am tempted to buy a pair of the loungers as well, for dayjob wear. (I snuck the sneakers in today because it's Friday and also hardly anyone is here.)

(

oracne
Jul. 20th, 2017
09:01 am
)
My schedule, during the workday and during the evenings, is pretty busy this week, but I did go to the gym last night. I did alternating sets of push-ups and squats, some tricep and upper body stuff, a tiny bit of "bicycle" leg works and a great deal of stretching.
I've been very lazy (also injured) this summer, and I could really feel it as I exercised. But as usual, the first set of push-ups was the worst, and they were less painful after that. I even did one set with my hands close together, which is the hardest for me. My wrists are no worse than usual this morning. My fingers are pretty swollen and not very bendy this morning. The high humidity today might be contributing.
Today is the staff luncheon, and then my group is leaving to do a team-building thing. Tonight, dinner at
Kabobeesh
. I don't think I will get much done.
Tags:

(

oracne
Jul. 19th, 2017
08:40 am
)
I read two books in the last week!
Raven Stratagem
by Yoon Ha Lee is more straightforwardly comprehensible than
Ninefox Gambit
, but still had lots of wonderfully weird worldbuilding and characters with complex motivations. Plus, there were a couple of moments where I said, "Whoa. Wow," which I will not spoil here. Two books in, I still think this is one of the most creative science fiction worlds I've read in a long while.
I finished
Raven Stratagem
on Monday, my recovery day from Readercon, and then dove into
The Strange Case of the Alchemist's Daughter
by Theodora Goss, which I finished last night, and which is about monsters and about women, and how they can be the same thing. I think if you like Karen Joy Fowler's work, you might like this, and also if you love meta and revisionist tales and/or things set in Victorian England and relating to the stories of the nineteenth century. Goss works with female creations of fictional scientists (or hypothetical female creations/daughters) from
The Strange Case of Dr. Jekyll and Mr. Hyde
,
Frankenstein
,
The Island of Dr. Moreau
, and "Rappaccini's Daughter" by Nathaniel Hawthorne (which I have not read). Also, Holmes and Watson are in it, because of course they are. But overall, this is a meta novel, periodically festooned with commentary from the female characters about themselves, their stories, how their stories are told, and the idea of what a novel should be and how it should be written. And besides all that, it was fun. Highly recommended, because I think a lot of my Dreamwidth friends would like this, and I would love to hear what you think about it even if you
don't
like it.

(

oracne
Jul. 18th, 2017
08:20 am
)
I saw many, many people at Readercon, none of them for long enough, but still managed to use up my extrovert energy supply for several years. Goodbye is the hardest part.
My panels went well from my pov, and I had a few people (not people I already knew) tell me they enjoyed them, so that seems good! Next time, I think I will skip anything at 8:00 pm, though, because I have no brain left by then.
When I was home and not working yesterday, I did laundry then spent the rest of the day napping and reading in blessed seclusion.

yhlee
gave me a test tube with a Dalek seal on top which makes me very, very happy. I am going to use it as a container for my tiny glow-in-the-dark 3D-printed Daleks and make little squeeing noises at it.
Tags:

(

davidlevine
Jul. 17th, 2017
03:36 pm
)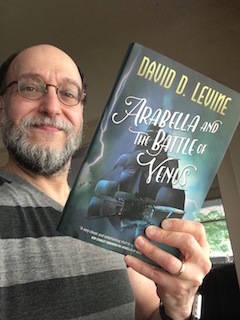 My second novel,
Arabella and the Battle of Venus
, sequel to the Andre Norton Award winning
Arabella of Mars
, comes out this week! The official release date is July 18, but I have seen copies in two bookstores already. You can buy it from
Powell's
,
University Book Store
,
Barnes & Noble
,
iBooks
,
Kobo
,
Your Local Independent Book Store
, or
Amazon
.
Is there an ebook? An audiobook?
The ebook of
Arabella and the Battle of Venus
 should release simultaneously with the hardback, from all the major ebook vendors, without DRM. I haven't seen any sign of the audiobook yet, but for the previous book it followed the hardback release by a few weeks.
Are you planning a book tour?
Yes! Here are the planned stops:
If any of these events is local to you, please come if you can. There will be music, costumes, and giveaways! Come in costume! Tell your friends!
What's the book about?
From the publisher:
The thrilling adventures of Arabella Ashby continue in
Arabella and the Battle of Venus
, the second book in Hugo-winning author David D. Levine's swashbuckling sci-fi, alternate history series!
Arabella's wedding plans to marry Captain Singh of the Honorable Mars Trading Company are interrupted when her fiancé is captured by the French and sent to a prisoner-of-war camp on swampy Venus. Now, Arabella must find passage to an enemy-controlled planet in the middle of a war, bribe or fight her way past vicious guards, and rescue her Captain.
To do this she must enlist the help of the dashing privateer, Daniel Fox of the Touchstone and build her own clockwork navigational automaton in order to get to Venus before the dread French general, Joseph Fouché, the Executioner of Lyon.
Once on Venus, Arabella, Singh, and Fox soon discover that Napoleon has designed a secret weapon, one that could subjugate the entire solar system if they can't discover a way to stop Fouché, and the entire French army, from completing their emperor's mandate.
What can I do to help?
You should
buy the book
, of course. Buying it on the release date is helpful but not necessary. If you can't buy it,
borrow it from the library
. If you can't find it at your local library or bookseller,
ask them to carry the book
. Also, it's extremely helpful if you
post a review
on
Goodreads
,
Amazon
, your own blog, or anywhere else people might see it. It's okay if you don't like the book! Even a negative review can be helpful if you say why you didn't like it. (Reviewer: "I hated this book! It has Martians and airships and girls dressing as boys! Yuck!" Reader: "Cool, that's just what I love!") And please 
mention the book
to your friends online and off. 
Where should I buy the book? Is paper better than ebook?
Wherever and in whatever format you like to buy books. I get the same money wherever you buy it, and I don't care whether you read it on paper or on screen. There are benefits to me if you buy it on
Amazon
, but personally I'd prefer it if you would support
your local independent book store
. Or you could get it from
Powell's
, which is
my
local independent book store. You can even order a
signed edition
from Powell's, which I will sign for you at my reading on July 18.
How is Arabella of Mars doing?
Very well, thank you! It won the 
Andre Norton Award for Young Adult Science Fiction and Fantasy
 and was nominated for the
Oregon Book Award
,
Locus Award
, and
Compton Crook Award
. Sales have been quite satisfactory, and the mass market paperback was released on May 30.
Will there be a book 3?
Yes! I just submitted the first draft last week, and it should be out about the same time next year. This third book, which is currently titled 
Arabella and the Winds of Phobos
but might be called 
Arabella the Traitor of Mars
, concludes Arabella's story, but there are more tales which could be told about other people in other times and places of Arabella's world.
How are you doing?
As you know, the last year has been an extremely difficult one for me. But I am doing better, and Arabella's success has been a great comfort. I thank all of you for your support of me and of the book.

(

oracne
Jul. 12th, 2017
08:22 am
)
I turned in my PW review on Sunday, and since then have not been reading a lot except bits of magazines and bits of fanfiction that I delete before finishing because it's not hitting the spot.
I started reading
Raven Stratagem
by Yoon Ha Lee, sequel to
Ninefox Gambit
, but am only a little way into it. So far, it is a much easier read, with explanations of how this very complex and creative world works.
Tags:

(

oracne
Jul. 11th, 2017
08:09 am
)
1. I went to the gym last night! Go me. I was really tired; I did weights including some barbell squats for the first time in a while, and a smidge of ab stuff, but just could not face cardio after that. And when I got home, I started feeling almost sick with tiredness when I attempted to work on my panel notes, so I set them aside. (It was a really long day at the dayjob.) I slept well once I got to sleep.

2. I put some things into my suitcase for this weekend. Not everything, but most of the things. I still need to pack the things properly, and choose makeup and jewelry.

3. I bought a couple of local items for a friend I'll be seeing at the con. Those get packed, as well.

4. Tonight, I plan to see The Monkeys, and tonight and tomorrow night I need to finish packing (first priority) and put my panel notes in my tiny notebook (second priority). I have to remember that notes can be made during my long train ride to Boston.

5. I still need to withdraw some cash, but I should be able to do that at the train station before I leave, so that's third priority.

(

davidlevine
Jul. 11th, 2017
10:20 am
)
I have finally gotten around to updating the
Upcoming Appearances
page on my website, and boy howdy do I have a lot of them!
With the release of
Arabella and the Battle of Venus
coming on July 18, I will be doing readings in Portland, Seattle, and San Francisco that week. Come and hear a new song, get new swag, hear a new reading, and see the same old writer in the same old costume!
Immediately after that I will be off to Europe for the Writing Excuses cruise and Worldcon. In November there's World Fantasy, Wordstock, SFWA readings in Seattle and Portland, and OryCon, and in December there's Writers with Drinks in San Francisco. It's going to be a busy year. And that isn't counting square dances, travel to visit family and friends, and non-public events!
I hope to see you at one or more of the following events. Click the links for more details.

(

oracne
Jul. 10th, 2017
08:48 am
)
I saw Spider-Man: Homecoming! And it was charming. Make sure to stay through the credits for a funny tag scene.

I also:

1. Collated notes for my Readercon panels, sort of; I hope to tidily inscribe my thoughts in my tiny notebook in the next couple of days. I mean, I can do that on the train ride up, but I would much rather be dozing and listening to music and such.

2. Bought a new scarf! All blues and purples, so pretty and stripey. It was on the clearance rack for weeks and weeks, but I have plenty of scarves, and resisted bravely. Until yesterday, when the price went down again and I snapped and bought it. I also bought a "cold shoulder" shirt in bright blue yesterday...not usually my thing at all. I think I will wear it, though. I am so pale that some of my veins show through my skin, particularly in my upper arms/shoulders from weightlifting, so it is kind of weird but cool that this shirt reveals that. Do people usually try to match their shirts to their veins? That happened by accident.

3. Did laundry. A couple of the items are going to Readercon with me. Also made a packing list, aired out a suitcase, and started piling things to go into the suitcase. I decided to go with a wheelie suitcase instead of my usual knapsack because I still have that sore shoulder, I think from how I sleep, or maybe my messenger bag pulling on it. Geez, these aches and pains.

4. Re-read The Dark is Rising by Susan Cooper, for the Readercon book club panel. I read Hidden Figures recently enough that I think I'll be okay without a re-read.

5. Wrote my PW review and turned it in early, because Readercon.
.